The first New Testament church of Jerusalem was formed when three thousand souls, who gladly received Peter's preaching of the Gospel, affirmed their faith through baptism and their stand with the apostles, and thereby were added unto the body of believers (Acts 2:41). According to Luke's record in Acts 2:42, that infant church was wholeheartedly committed to prayer. Prayer was one of the four major priorities of the church – "And they continued steadfastly in the apostles' doctrine and fellowship, and in breaking of bread, and in prayers."
The members of the church had counted gathering together for prayer as non-negotiable. They "continued steadfastly… in prayers." Their learning of apostolic doctrines, fellowship and communion were catalysts for coming before God as a church in prayer. Likewise, I pray that all our church's regular learning of God's Word, fellowship and communion (and also special times like the recent BW retreat) will lead to greater experiences of prayer in our midst.
The Greek word used for "prayers" (proseuchais) is a general word for prayer, which is most frequently used in the New Testament. It denotes all kinds of prayers – thanksgiving, affirmation of faith in God, confession of sins, petitions, intercessions, etc. It depicts all forms of prayers offered by the believers who had gathered together to commune reverentially with God. At times, its focus narrows to just one kind of prayer, such as asking for a specific benefit.
In the book of Acts, the early churches' continual devotion to prayers is evident. They often came together in groups to pray (Acts 1, 4 and 12). There are also records of individual prayers as believers went through differing experiences alone, as in the case of Ananias and Paul (9:10-11), and Peter (10:14). We also know that their prayer items varied according to their situations. They praised / thanked God for sending the Spirit, for His powerful help, provisions, guidance, and for drawing people to faith. There were also confessions of sins, intercessions for God's servants and their ministries, for new converts and their spiritual growth, for the persecuted brethren to boldly declare God in the face of persecutors, as well as petitions for temporal needs and spiritual strengthening, guidance, etc.
We, members of Gethsemane BPC, should also have a steadfast commitment to prayer like the Jerusalem church. None among us should take our prayer gatherings lightly. We must eagerly and persistently engage in the critical duty of prayer. Like the early church that relentlessly pursued divine help for its spiritual and physical needs, we must give ourselves to prayer. We should not only pray as individual believers, but also as a church corporately (cf. Acts 1:14, 24; 4:24-31). We must gather to pray with much expectancy because of the promises of our Lord. He has promised to be the Source of provision for all our needs – "And whatsoever ye shall ask in my name, that will I do, that the Father may be glorified in the Son. If ye shall ask any thing in my name, I will do it" (John 14:13-14).
Sadly, prayer is much neglected in the church today. Though we rejoice that a good number of Gethsemaneans attend our Tuesday prayer meeting, it is truly unfortunate that some make little or no effort to join the prayer meeting. Prayer meetings are not for a faithful few only!
I would like to call on all Gethsemaneans to come together to pray. We have much to fulfil in obedience to God's Word, and much to accomplish in His kingdom according to His glorious purposes. Like the early church, we must draw courage, strength and wisdom from Him through the study of His Word and prayer. They are the means of grace by which the church becomes what God wants it to be. Let us not be a spiritually weak people and church. The question we need to ask ourselves is: Are we, unlike the early church, forsaking the priority of prayer? Have you forgotten the Bible's commands to pray at all times and to be devoted to prayer? Consider the following Scriptural exhortations:
Luke 18:1 – "… men ought always to pray, and not to faint".
Romans 12:12 – "Rejoicing in hope; patient in tribulation; continuing instant in prayer".
Colossians 4:2 – "Continue in prayer, and watch in the same with thanksgiving".
Dear brethren, we cannot be a church that neglects prayer. The Word of God commands that we must be praying believers and members of the church. The ministry needs – need for more men in the leadership and staff, urgent needs of finance (such as the needs of TGCM, Bible Witness, new Gospel missions, renovation costs of 33 Ubi Crescent, etc.), among others – also burden us to come together in prayer.
Prayer is by no means a trivial matter. It forms the sinew and muscle of our church's hands of service. Without prayer, we will accomplish nothing in the Lord's kingdom. Prayer is our unique expressions of faith, devotion and love for the Lord and His work. Prayer meeting is the means of grace by which the church becomes what God wants it to be.
See you on Tuesday Night prayer meetings! Come with your family. Let us exhort one another to be together before the Lord in prayer. There is much to accomplish. May we find divine strength and help through prayer.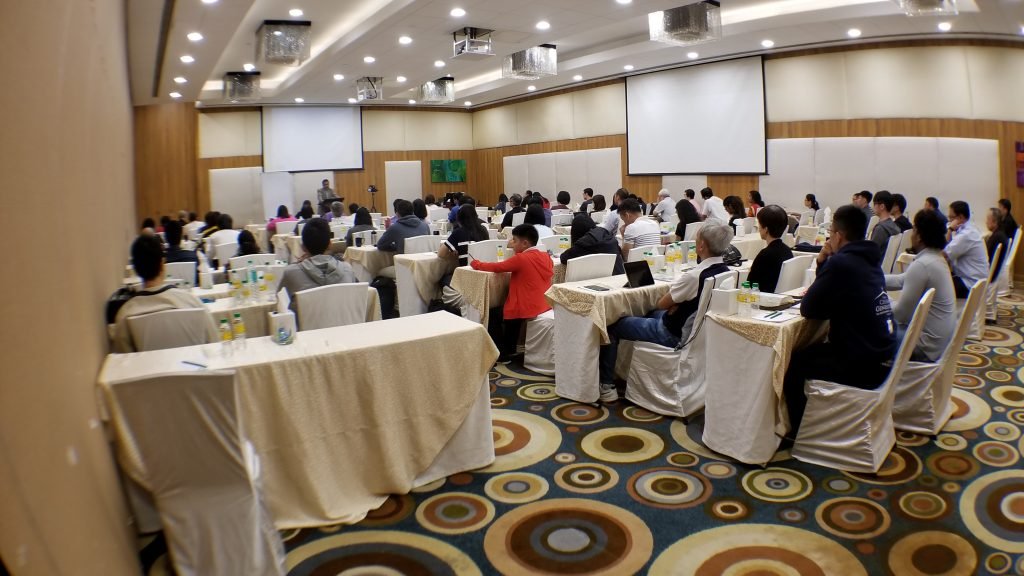 At Holiday Inn, Cochin
Outside the home of Bishop & Mrs Koshy, Pastor Koshy's parents