"Let all your things be done with charity" (1 Corinthians 16:14).
What will it be like if someone around you always deals with you without love? Undoubtedly, you will be traumatised by his rude, harsh and hurtful attitude towards you. It will be an unbearable situation for you. This is exactly what the apostle Paul wants us to avoid in our dealings with others. The remedy for all unpleasant and intolerable situations in the church is this: that all things be done with charity.
If there is no love, we will be irritable, aggressive and quarrelsome. But love keeps us humble in our success and compels us to serve the needy ones with kindness. Love renders us gentle and considerate towards those who are immature and ignorant. It keeps our strong conviction of truth from becoming obstinate dogmatism, and our commitment to righteousness from becoming smug self-righteousness. It further keeps our firmness from becoming hardness, and our moral strength from degenerating into a domineering spirit. It keeps our maturity gentle and considerate.
Moreover, love keeps us calm in tough and provocative situations. "Charity suffereth long, and is kind; charity envieth not; charity vaunteth not itself, is not puffed up, doth not behave itself unseemly, seeketh not her own, is not easily provoked, thinketh no evil" (1 Corinthians 13:4-5). Love restrains those who have been wronged and have the power to take revenge on their offenders from working out their vengeance. Love never retaliates, for it is patient. Love is a powerful regulator of all ill feelings!
The love of God that worketh in Christians will not teach us to be self-loving. Its greatest concern is the welfare of others, as demonstrated by Christ, our Saviour – "But God commendeth his love toward us, in that, while we were yet sinners, Christ died for us" (Romans 5:8). So we are admonished to "walk in love, as Christ also hath loved us, and hath given himself for us an offering and a sacrifice to God for a sweetsmelling savour" (Ephesians 5:2; cf. 1 John 4:7-11).
Love also teaches us to be kind towards others. It makes us gracious, useful and willing to serve others. It motivates us to give anything that would help others in their needs. It equips us to be generous (cf. Matthew 5:40-41). In this evil and tumultuous world, genuine love readies us to exercise kindness and generosity.
"Beloved, let us love one another: for love is of God; and every one that loveth is born of God, and knoweth God" (1 John 4:7). We are able to love one another, "because he first loved us" (1 John 4:19).
---
Pangasinan Report: Aftermath of a Great Typhoon
Dear Pastor Koshy,
I thank the Lord for keeping all the brethren safe when the super typhoon hit northern Philippines last week. The typhoon was at its strongest last Friday night till Saturday morning. The wind was very strong and sounded like a loud whistle. Thank God that the government had warned the people a few days before; therefore we were able to prepare for it. The brethren in Pugaro tied their houses and roofs to trees and concrete structures because their houses are mostly made of light materials. I was worried for our people in Pugaro because they live near the seaside and are in the "danger zone". On Friday morning, I contacted the person-in-charge of PIMSAT College as to whether we could rent two of their classrooms for a few days. I was planning for the brethren to use these rooms as an evacuation centre, just in case. Unfortunately the PIMSAT authorities declined our request.
Because of the pressing need, I called Bro Roger and offered them to stay at the Mission station. To avoid conflict with PIMSAT College, the access gate to the college would be locked. But Bro Roger told me that the evacuation centre nearby was already at full capacity and they would rather just stay at their houses. I tried to convince him to evacuate, but he replied that he was too embarrassed to come because they had no food to sustain them while staying with us here. I replied to him that it was not a problem; if ever our provisions dwindle, the Lord would provide for us. Anyway, he told me that they would consider to move if ever the wind became unbearable.
That same afternoon at 4.00pm (when the wind was really strong), my family and I went out to buy additional food to anticipate the brethren's coming. (These provisions were later distributed to the brethren last Sunday night since they couldn't join us in the mission station during the storm). On Friday night, we experienced the howling wind starting at 1.00 am, which lasted until 5.00 am. During the storm I was keeping in touch with the brethren in Pugaro. Thank God for keeping them safe.
I assumed that the Pugaro brethren were most vulnerable because of their location, but I was wrong. At the height of the typhoon, Sis Cecile from Singapore updated me about the brethren's situation through social media. She told me that the brethren were experiencing landslide in their area because of the strong water current in the river nearby. They tried calling "911" for rescue, but the rescuers were not able to reach their place. The roads and bridges leading to them had already been declared "not passable" because the flood had reached 6 feet deep! Deep in the night, Sis Cecile asked me if I could call the town's Disaster Risk Reduction Management to request for the rescue of the brethren. I called the office and talked to the person in-charge, but they were sorry that they couldn't send any personnel because of the severity of the flood. They could only advise them to stay away from the landslide area. So, all the brethren took refuge at their relatives' homes, farther away from the landslide area.
Thank God for preserving all the brethren. The wind and rain got weaker on Saturday morning, but there were fallen trees everywhere. Many roads were blocked by debris and flood waters. After the strong typhoon, the Pugaro brethren started to fix their houses, but the brethren in Binday were still worried about their livelihood and safety. A big chunk of land had been carried away by the water, together with their houses! Their irrigation canal was also destroyed, affecting their livelihood. To get a clearer picture of the grim situation, the cliff which was previously about 300-400 metres from the house of Bro Mario Naranjo, is now just 50 metres away!
Because of the typhoon and flooded roads, I decided to cancel the worship service. All the brethren also were tired and needed time to clean up their homes and transfer their things back to their homes from the evacuation centre. My family and I worshipped the Lord through the live broadcast. I thank the Lord for giving us a concrete place on a higher ground. The damage (only to the roof in the porch area) in the mission station is just minimal.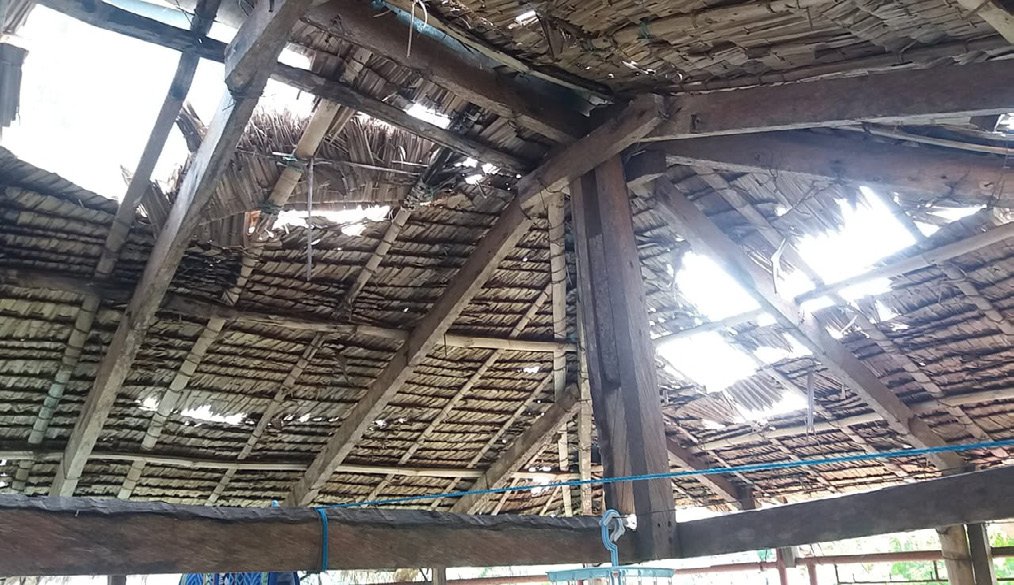 (Damage to the roof of the Mission Station's porch area)