Report co-written by Bro Cornelius Koshy and Bro Titus Ho
We thank God for the 15th Bible Witness Retreat held in Visakhapatnam, Andhra Pradesh, India from 3rd-5th September 2018. Altogether, 42 participants from Singapore, joined by approximately 25 local Christians and missionaries, attended a series of eight messages preached by Pastor Koshy on "The Gospel of the Kingdom".
It was indeed a joy to once again meet up with our missionary, Pr Sujith Samuel, as well as his many Christian contacts whom he has come to know over the past year of ministry in Vizag (like Bro Deepanker and his family, who also participated in Gethsemane's church camp in Penang earlier this year). We thank God also for the opportunity to meet with our three new GBI students, Henjit, Joyson and Devakumar, as well as a familiar brother to Gethsemaneans – Philip Cherian. Moreover, a few other pastors and missionary workers from Andhra Pradesh and the neighbouring state of Odisha travelled long distances to be part of this retreat – praise the Lord!
On the first afternoon of the retreat, our team excitedly visited the newly rented two-storey house for future church worship and fellowship meetings. It is a beautifully designed and well-maintained house surrounded by lush greenery, and is a short 15-minute journey from the city centre. At present, Henjit's and Joyson's families reside in this house. This is because they, being from Odisha and having come to Vizag for full-time studies at GBI, are in need of a place to stay. Our team then visited Gethsemane Media and Bookroom, a commercial space on the third floor of a building located in the heart of Vizag city. It is a well-renovated space which suits well the classroom needs for GBI lectures. Pr Sujith lives in a room within this space, and coordinates the administrative matters of GBI and Gethsemane Media from this place.
On the second day of our retreat, we visited three village churches and a school in the rural village areas of Visakhapatnam, which are about 1½-ride from the hotel. The first church that we visited is pastored by Pastor Devakumar. It is a simple hut, which is surrounded by the other villagers' houses. From there, we proceeded to visit another church, which is located in the house of Pastor Premkumar and his son, Leonard. The church is still undergoing construction to build a second floor for worship purposes. Pastor Premkumar has been holding the fort faithfully for 40 years, and now his son, Leonard, is a youth leader in the church. The last church that we visited is pastored by Pastor Stephenson, who is a relative of Pastor Premkumar.
The third and final day was a treat to the retreat participants, for we were brought on a visit to the beautiful beach front of Vizag, at Tenneti Beach. From there, we subsequently made our way up to a vantage point on a hill for a panoramic bird's eye view of the city, before ending the trip at a restaurant for some local biryani.
Overall, we thank God for such a wonderous opportunity to see the Lord's work being done in the Lord's field in Vizag. Although the beginnings are small and humble, we rejoice in the knowledge that the kingdom of God is likened to a mustard seed which, in the Lord's timing, will grow into a huge tree where birds of the air will flock to make their nests (cf. Matthew 13:31-32). May the work that has begun in Vizag blossom and flourish into an effective Christ-centred Gospel work of God's kingdom!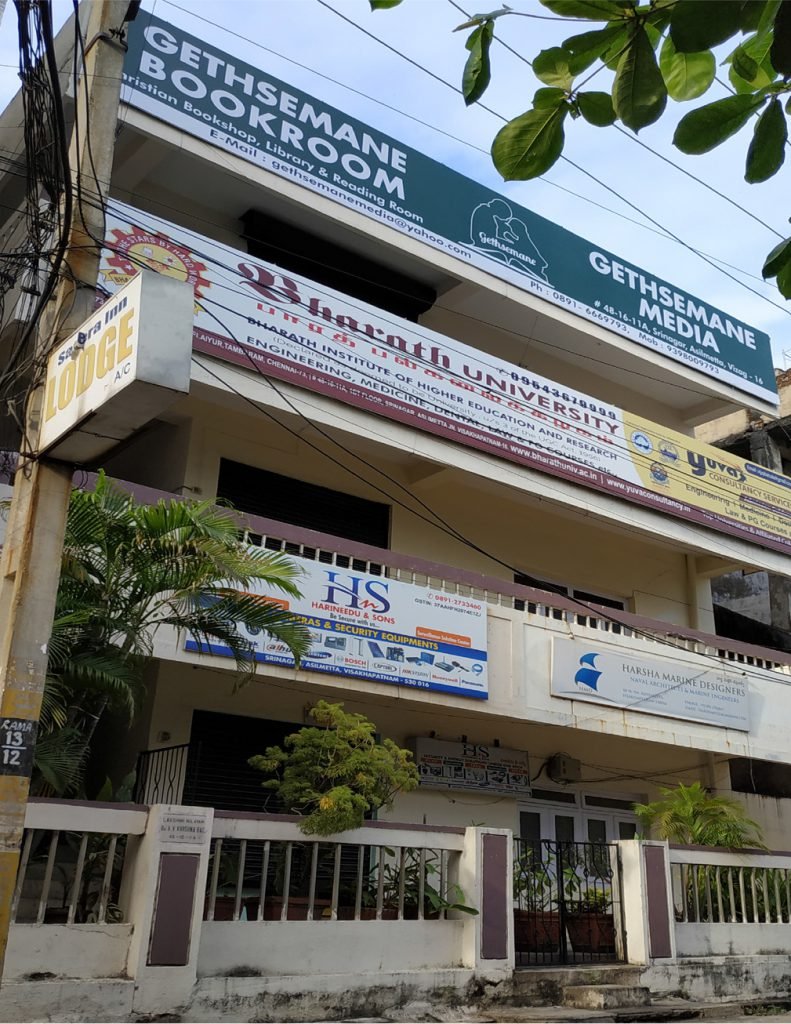 Gethsemane Media Office and Bookroom (on the 3rd Level of the Building)
---
Thanksgiving Note from Pr Sujith
Dear Pastor,
I am really thankful to the Lord for the 15th Bible Witness Retreat on the topic of "The Gospel of The Kingdom" conducted in Vizag. From the very beginning, God's guidance was evident in the organising of this retreat. By God's providence, we managed to get a good hotel, where they offered their best service. In this regard, I am particularly thankful to God for Dn Kwok Wah, Bro Benny Skarih and Bro Lijoy for the help rendered to organise this retreat.
Truly, thank God for helping you to teach God's Word on all three days. Those who participated really enjoyed the systematic teaching from God's Word. The retreat was specially blessed by the participation of around 25 guests from outside. They really appreciated the teachings and fellowship extended to them. The visits to mission stations and local churches were further encouragement to local pastors and missionaries serving in the villages.
I am particularly thankful to all those who came down to learn God's Word. I was really happy to meet and fellowship with many of our church members again. Thank you so much for the support, prayers and encouragement given for the work here. May Lord bless our efforts to spread the Gospel here.
In Christ,
Sujith